Hi, it's sunny here, and you're in for a wild ride with the party princess of your dreams. Today we're going to have a little guided masturbation phone sex because I just love to be in charge. Are you ready babe okay I just want you to sit down, lean back and relax don't worry about anything babe because now I'm the one who's in charge. I want you to follow my instructions, lover, just be a good boy and let Sunny be in charge, ok. I want you to take out that dick now, unzip and pull your pants half down, reach into your boxers and pull it out. Now just lick your fingertips, don't grip it, and run them up and down your tip, and your shaft. I bet that feels nice right? Yeah? That's good. I know how much you like this time so listen carefully baby I need you to touch yourself slowly for me at first. Okay? No gripping it yet, just play with it. Tease your cock, let's see how hard we can make him. You can rub him now, once you start rubbing it I want you to imagine it's my hands. Put one hand under your balls and play with them, and start to rub your cock with the other. How does that feel? Like warm fingers, don't push too hard; only squeeze it when you are teasing it. Right baby?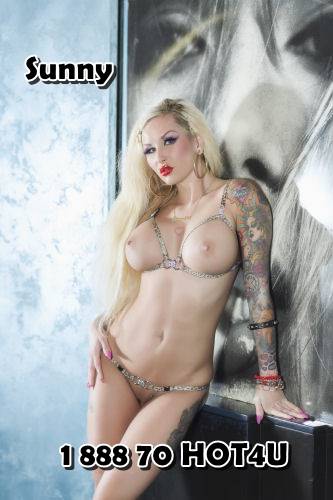 Now I want you to imagine me on my knees between your legs, imagine my hands working that cock, as my bare tits rub against the inside of your legs. You can feel my hot breath so close to you. Now grip your cock and laying back rub your balls, and your taint we are going to start going harder now, ok. Think of it as my lips on your balls. They are a tight fit, and they want to spread wide to taste them I lick and suck your balls for a second. Keep on rubbing those balls sexy as you imagine me taking them one by one into my hot, wet mouth. I want you to picture me pulling your cock deep into my mouth, sucking on your shaft, and running my tongue all over your tip. As you imagine this grip that big hard dick in your hand and I want you to grip it as tightly as my wet little pussy would. I hope you brought lube babe. I'm wet right now.
You are going to stroke your cock now and I want you to prepare to cum for me. Don't rush but please get close to your peak now. Play with your balls, pinch them squeezing and roll them. Suck your juices from your fingers and then spread them around your dick making sure you leave your ball smooth and dry, now as you stroke your wet cock imagine I'm sitting on your lap reverse cowgirl style and taking your whole hard manhood as deep as it will go inside my needy sloppy wet pussy. Sucking it all in and loving every inch. Imagine my cunt as open as you could ever dream and my soft moans as I fill my hungry cunt. My pretty hole is wrapped around your thick cock and dripping.
Do you want to hear more? Call me. It will feel so good to cum for me, lover. It will feel good to experience my guided masturbation phone sex instruction. Get on the phone and give me a call now at 1 888 70 HOT4U and ask to talk to Sunny.