It's Sunny Valentine here again, with an entertaining story of my first experience with foot fetish phone sex. I met a man who was into foot fetishism, and we went out on our first date. We went to the beach and he nearly exploded when I took off my shoes and socks to feel the beach between my toes. I saw him trying not to look at them and blushing and I thought it was cute. I realized he loved my feet because he massaged them in public. My feet were exceptionally clean and they smelled good, and I knew that he loved it because he kept inhaling my fragrance. He asked if I minded him licking my toes, and I said it was OK. When I realized he wasn't going to stop, I told him, "If you don't stop licking my toes I am going to give you a little spanking." It seemed like the right thing to say to get him to stop, but the moment my foot slapped his cheek, it made me hot, and he liked it! I had just put him in his place, and he liked it!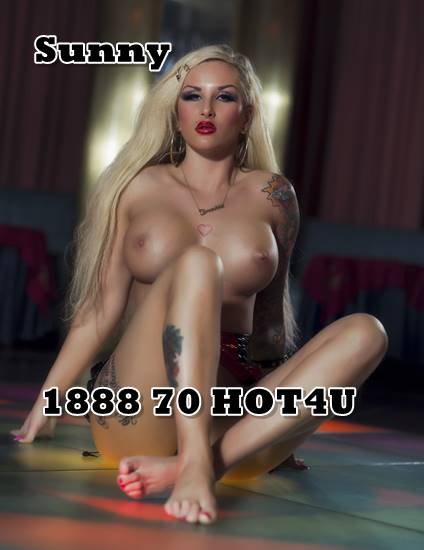 It got me thinking that perhaps I'd need to incorporate my feet into more sexual actions. Like I thought instead of a handjob maybe for him I should do a footjob. As I realized the hand massaging his large dick should be a foot I began taking off my socks and grabbed the lube. As I slowly lubricated my feet, he grabbed me and told me he wanted to fuck me. I told him to lay back and close his eyes beginning to grip his dick with my feet and stroke his shaft. As I worked his dick into a froth I realized it was driving him mad, his eyes were rolling back in his head. He was so sensitive that as I tickled his balls with my toes he shuddered and came all over my bare feet. After that, I thought I'd try an even kinkier foot fetish scenario. He was truly going to go crazy with this next one. My feet after a nice long walk and him on his knees removing my shoes and socks. I knew he'd be driven mad by the intoxicating way my toes would smell and the way they would grip his shaft as I fucked him with them. I was trying to be as sensual as possible as I gripped his dick with my toes and feet. I gripped and squeezed the lube all over my feet and toes to make them extra slick. As my toes squeezed around his cock, it was as if I were fucking him and it was driving him wild. He was thrusting and fucking my toes with such fury I thought he was going to break me in half. But he held my legs firmly and fucked my toes and feet like they were a hot pussy.
I was surprised by how much I enjoyed doing that. I'd never really thought of my feet as sexual but that was a true moment of revelation for me. If you are into foot fetish sex give me Sunny a call and let's have some foot fetish phone sex now at 1 888 70 HOT4U.