Oh how I am loving fall back to my usual gym schedule. Yes summer is wonderful and I shall miss wearing next to nothing but there is just something nice about being at the gym in my tight work out pants and sports bra with the usual eye candy around. See during the summer this phone sex cougar didnt get to the regular assortment of fit men due to them finding alternative workout spots. Now they are back and eyeing up my breasts and ass again.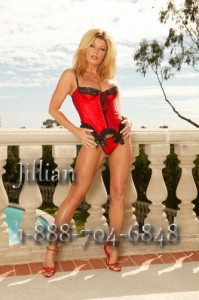 Pure happiness!
Sure I should be ashamed for flaunting my assets at the gym but I am not. It only makes me work harder and you have to agree this 40 yo phone sex cougar looks pretty damn fuckable. Dont you agree?
Just answer yes to that question.
Must say one of my biggest fantasies is to be taken by one of those fit men in the back room. Its a rather private work out studio with mirrors along one wall. The idea of being grabbed and tossed up against the wall and fucked hard by a muscle bound guy. Hmmm pussy wettening. Then only to watch his muscles ripple in the wall of mirrors behind us. You can not tell me that wouldnt be hot.
Well actually if we can put a cuckold spin on things that would make it super hot. For you know I love a good cuckold fantasy. Perhaps leave it with me I shall go work out the finer details while you go grab your phone. I would hate to masturbate alone to this hot fantasy.
You can reach this phone sex cougar by calling 1-888-704-6848 just ask for Jillian