I am a really big fan of exhibitionist phone sex calls. I used to work at a department store in the men's clothing section and I can't even tell you how many times those guys would flash me, try to get me to come into their dressing rooms, etc. I used to get upset about it – I mean, I thought I could get fired or something if someone saw it and reported that to my supervisor. Sure, the guys were doing the flashing, but what if they said I was inviting it in some way? I needed the job, so it freaked me out.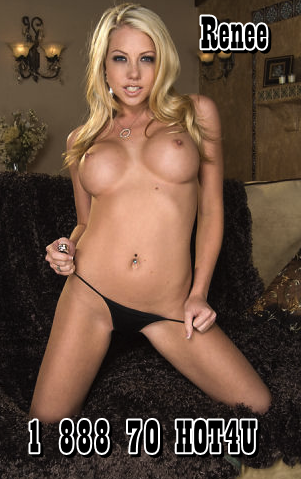 But eventually I found myself a sugar daddy and didn't need to worry about money and that's when things got really fun. There was this guy who would come in twice a week and invite me into his dressing room and he was really shocked when one day, I finally said yes. I think he must have been turned on by just the thrill of asking, because the look of shock on his face when I followed him into his dressing room was priceless.
He didn't even know what to do with me when he was alone with me, so I sat down on the little bench that's in the room, pulled up my skirt, spread my legs, and told him to get busy. He didn't even hesitate. After he had gone down on me for a while, I stood up, bent over, and told him to fuck me as hard as he could. And he did. I was so turned on by the fact that people were probably listening to us fuck. It didn't take him very long to empty a load of cum inside me. I just opened the dressing room door and walked out without even a little bit of shame. I didn't care who saw me. He looked pretty embarrassed, though haha!
Do you have an exhibitionist phone sex fantasy you'd like to talk to me about? Call 1 888 70 HOT4U and ask for Renee!
AIM: RainyDay4Renee
Yahoo: RainydayRenee