Who is up for some ass fucking phone sex?
No really like you fuck mine. I fuck  yours.
Well lets just say I am leaning to wanting to fuck yours and I am sure your more than eager to bend over and let me claim that tight asshole of yours in more than one way. Be it with just my finger while giving you a blow job. Let just say thats the introduction to ass fucking and I will work my way up to strapping on that thick dildo of mine. You know the one you were drooling over its long, thick, dark and veiny. Just like those real BBC cocks you see when watching interracial porn.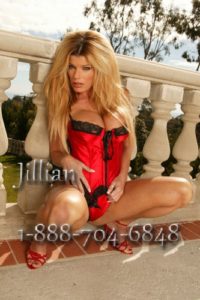 Scratch that not as long some of those are monster dicks and I dont want you running away from me the moment I walk in the room with that mandingo cock slapping from thigh to thigh. My strap on dick will leave your ass feeling well penetrated and have you sitting very gently.
Hmm just the vision of you gently taking a seat at work and rather admitting it was anything but getting ass fucked by this sexy blonde cougar. Oh that would be amazing.
So which one of you will be the first to feel that full power of my hips thrusting into you during our hot and sexy ass fucking phone sex call?
Cause I am looking at the dildo beside me and really wanting to use it today. Sure we can come up with some wick and wonderful even taboo fantasy to go along with our strap on fucking session.
Just ask for Jillian 1-888-704-6848