I know you nasty pervs have all kinds of deviant fantasies you're here to work out – it's my job to know about it, and know it well, right? So, it occurs to me that some of you dirty rascals really need to think about the benefits of a good 2 girl phone sex call, especially when it includes a mature and slutty woman like me. How many GILFs are taking these kinds of calls, honey? Not many – they're all too busy baking cookies and crocheting doilies, and growing cobwebs in their dried-up cunts. That's not me, baby! I'm here, my cunt is still getting lots of play, and I'm happy to be perverted with you, but it's even more fun when you pick a second girl for us to get perverted with. Think of all the too-taboo-to-tell possibilities!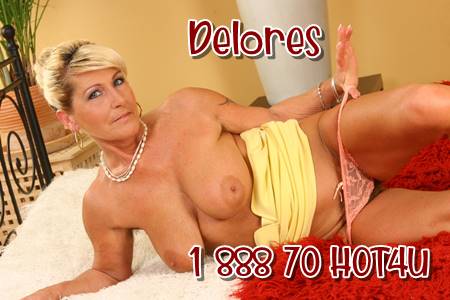 Really, think about it hard, and when your dick gets rock hard in return, that's when you know you need Delores in a 2 girl call. If you've already called me, you know I don't hold back, so try to think about how much fun it will be to let me loose with one of the other girls here, or we could play with a hot and hung shemale. I'll take it either way – I mean, I've been taking it in many ways for so many years, I'm happy to play in any kind of threesome. I've got three fuck holes and a few strap-ons, so I'm ready to give or receive, and with a 2 girl phone sex call I can do both!!! So can you, if you want.
So, who's it going to be? Go back and look to see who else is on, then dial 1 888 70 Hot4U and ask for a 2 girl phone sex call with Delores and another hottie, and let's make use of all the fun toys and fuck holes we can get into one call!!