Do you know that they say red heads are the most sinful? Well that is a statement I can vouch that is very much true. Especially with a red head like myself. And it's equally true if i'm being a cock teasing princess or a submissive slut or somewhere in between. Knowing this, then let me ask what more could you ask from a flirty, no limits phone sex kitten like me? I'll tell you the sky is the limit and beyond! Just look at this firm tight body of mine. I would also like for you to think of all of the very unforgettable things that I use it to grab your attention. And when I say I love all kinds of men I can honestly say I truly do mean it! It doesn't matter if you are the type who takes control or if you are a submissive pet or slave looking for a princess to take control of you. When you cross paths with this sinful pleasure I just know it will be a matter of moments before you are sharing your most private secrets and fantasies with me. I just love hearing about what turns you on. I love the way that you talk and the way that you express yourself and the very sexy sound of your voice in my ear when you are completely and totally turned on.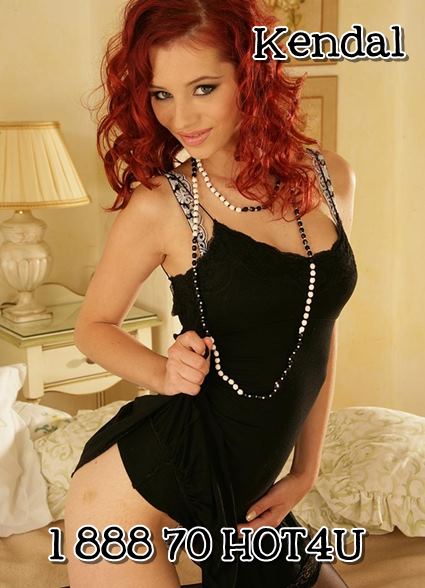 I have to admit I just cant get enough of being vocal. And rest assured that with me you will never have to worry about dead air silence or a bunch of moans and groans. Now that's not meant to say that If a man who takes control wants me moaning all over his dick when I'm getting my pretty face used a fuck station. Or when my addicting pussy is getting filled up by a mans fingers, tongue or cock as well. I'll moan out your name and make it sound so good that you will find yourself saying "Oh Kendal you just sound so sexy and that delicious voice you have makes me want to cum so fucking hard for you." I love hearing those words. Especially when my panties are so moist that I give you my most memorable "Pleaseeeeee give me your cum right now" I've got it all for you…. A sweet cock stroking dirty talking candy apple voice, firm squeezable breasts to fondle, a bald pussy to sink your fingers, tongue and cock into, a tight apple bottom ass to spank for being so naughty, and a mouth that's so warm and wet that it can give you mind blowing explosive orgasms. I have learned and taught from some of the very best. And only an older mature man can mold and sculpt me into whatever he chooses too. I will be the eager student and you can be my teacher. Unless you want to be my pleasing student and i'm your very sexy seductress.
With me, I promise to take in each and every no limits phone sex fantasy that you want me too. I will be your very best and when you go to the rest you will always remember who was the best! I will do each and every thing that the other girls don't do. And you will find yourself ready to take your cock out and start jerking it just for me. I love all role plays and I can promise you that anything goes with me. But for now just let me climb on top of you and sit my sweet ass that is covered with panties. I will grind and wiggle all over your hard dick. And I'll make sure to wear something super sexy so you can unwrap me just as slow or quickly as you wish. You know the revealing sexy outfits I wear that show off these sweet titties and sexy smooth legs. And you can get a good eye full of these pretty panties that are getting more moist for you by the second. I'll grind and make you throb so much as I look at you smiling saying "touch me right here…." Do you know where that is? It's one of the spots that makes me tingle for you from head to toe…
So please give me a call. I'm all yours and I'm ready to show you just how much I can turn you on. And let my sexy sweet voice tell you in your ear exactly what spot to touch that drives me insane. And I can touch you on the spot that makes you throb and drip pre cum just for me.
Call 1 888 70 HOT4U ask for Kendal
E Mail: Kendalloves2swallow@gmail.com
Skype & Google Hangouts Messengers: Kendalloves2swallow