So first things first, let me introduce myself – I'm Claudia your very own scorching hot beach babe. Let me tell you, I'm as wild as they come. I'll do anything, say anything, & most of all I just love to have hot phone sex. It's what I do best! So tell me, what are you into? I'd love to get to know you better. What gets you hot & horny – eager & ready – to fuck? I want to know all about you & all about your cock too! Is it hard already? If not it should be – I mean – seriously, just take a look…my gorgeous brown hair, bluish gray eyes, rosy pink lips, sexy as fuck tits, & smooth bare pussy.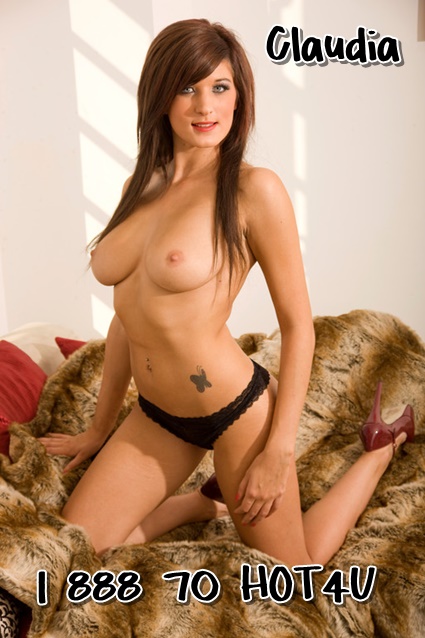 Check out the pic, if you were to take a peek underneath my panties – you would see just how wet I am – not too mention, my pussy is wet like that 24/7. Seriously, how can you resist? I know you can't stop staring. So I bet you want to know more about me too? Well, when I tell you I'm wild – I really am wild. Example, recently – I fucked a guy at a concert in front of everyone. We were in the audience & here is this complete stranger – his cock was super hard so I did what any wild & wet horny as fuck girl would do – I reached over & grabbed it! You should have seen his face – total shock! It was super fucking hot. I was wearing this short black mini skirt – I took his hand & he reached up my skirt & the next thing I knew he was ripping my panties off & then he threw them into the crowd. He picked me up & I wrapped my legs around him with my skirt up – just a side note – everyone could see my bare ass. So sexy & he starts fucking me to the beat of the music- not gentle either – he's thrusting his cock into me – deeper & deeper until I & he & fuck – fuck – fuck! & that's just getting me started.
Want to know more? You know what to do! Dial 1 888 70 HOT4U and ask for Claudia for hot phone sex.
AIM and Yahoo: naughtyhottieclaudia