Are you tired of your real life wife or girlfriend? I thought you might be. She's so boring to talk to, isn't she? And most women are so fucking basic when it comes to sex and those things are exactly why men cheat. Maybe you don't want to actually go out and physically cheat on her, but you need some relief. Calling me for GFE phone sex will give you what you need and you'll still be faithful to her. But I have to warn you that you're probably going to end up falling in love with me. But I feel like you are still going to call me and risk it.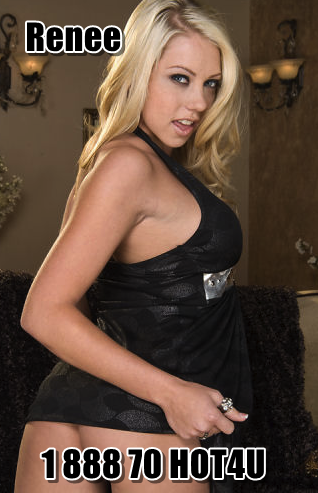 It's up to you what we talk about when you call me for GFE phone sex. I'm a smart girl, so just about any topic is fair game. I want to hear anything and everything that's on your mind. You might think that I don't care, but trust me, I do! If something is bothering you, I want to hear about it. If you have a movie that you're dying to tell someone about, tell me. If you saw a news article that you found interesting, tell me everything about it and why you found it so interesting.
But you know that a good phone sex girlfriend like me is going to put out, too. And no matter what kind of fantasy you have – whether it's "normal" or what some might call fucked up – I am here for you. I want to do anything it takes to make sure you have the best orgasm of your life. I promise you're going to cum really hard, baby!
What are you waiting for? Your GFE phone sex girl is here waiting for you. Just call me at 1 888 70 HOT4U and ask to talk to Renee!