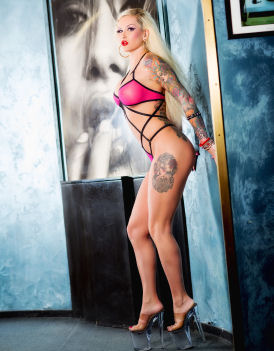 I'm Sunny, a sex-crazed adrenaline junkie who likes to get wild. I am an exhibitionist who loves to explore and will never shy away from group sex or getting caught doing spontaneous public sex. I'm not afraid to take risks and push the boundaries of what's possible. I am a free-spirited singer in my all-girl band, the Nympho Pirates, who loves kink and fetish, parties, and rock music. You can bet that I'm the type of girl who won't say no to the taboo side of sex.
I guess what made me so naughty was growing up in a sleepy little prairie farm town with my strict single preacher father, who headed the local church. In the confessional booth, I met choir members for oral practice, satisfying my rebelliousness by keeping my oral fixation somewhat pure and godly. I had a wild and naughty daydream life fueled by fantasies of family fun, a blasphemy that would have made daddy blush. My motto is "Good girls bend at the knees, but bad girls bend at the waist, and you can twist me up like a pretzel!" Masturbation was a must those days, until I grew up and went to the city for a life of hedonism and debauchery, which makes me an expert at both jerk-off instruction and mutual masturbation calls.
I love corrupting younger men, and dominating is a fetish I enjoy. Without hesitation, I will make you the next pussyworshiping groupie to be subservient to me and the band's deviant sexual appetites. So submissives, get on your knees and dial my number right now; it's time to serve your new party princess, and I won't take no for an answer. I am versatile, though, and open-minded, so if you are a man who thinks he has what it takes, I dare you to give me a call and try to top me. Damn, would that make my pussy hot and wet! If you're tired of the duldrums of your boring everyday life, have a wild fantasy you want to make a reality, or just need a hot, wild, no-taboo freaky chick to do all the things your girl says no to, then you've got to talk to me. Cause Babe I've got tricks you haven't even heard of yet!