Yee haw, fuck boy!!! You'd better get that asshole ready, baby, because if you're calling this bitch for strap on phone sex, you're gonna have the ride of a fucking lifetime! Do you think you have enough lube on hand? I hope so for your sake, because GILF Delores doesn't come equipped with a sweet little granny's sympathy. No fucking way. I'm a real sadistic cunt when I want to be, and if my strap on is out that means so is your cunt, so I have competition – I need to be the biggest cunt in the room with the biggest cock, so get ready to ride 'em cowboy!! My biggest strap on is singing your name, and I'm listening to it sing. It wants me to bend you over and fuck you until you beg me to let you cum, and who the fuck am I to argue? You'd better not argue either. Your asshole is my target, and it's time for a little target practice.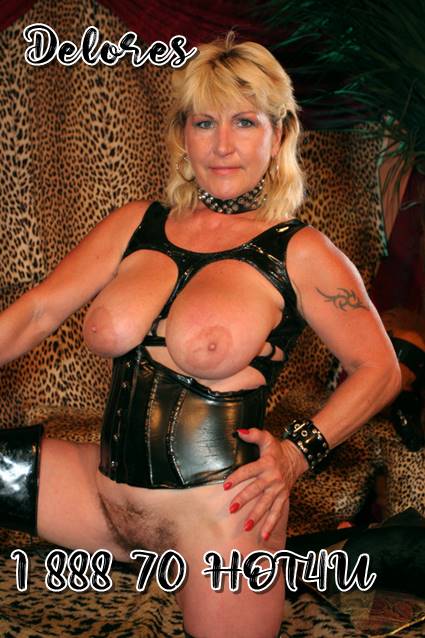 Bend over. Spread 'em. Let me see what I'm working with here. Your gaping brown eye is staring at me, slut boy, and it looks like you need a strong GILF to plug that bitch up. I've got just the thing to do the trick – a super fat rubber cock for you to ride. I'm going to fuck you hard like the little bitch you are, but then I'm going to make you ride it and show me how well you've learned from your cowgirl slut riding lessons. I want to see you bounce like you're at a fucking gallop, right there in my lap. Show me that strap on phone sex is all you really want right now, that all you fucking need right now is my favorite rubber dick deep inside your saddle seat!
Call Delores at 1 888 70 HOT 4 U and prove to me that you can take it. Just make sure you wipe the lube off your hands before you touch your phone, you dirty little slut!!