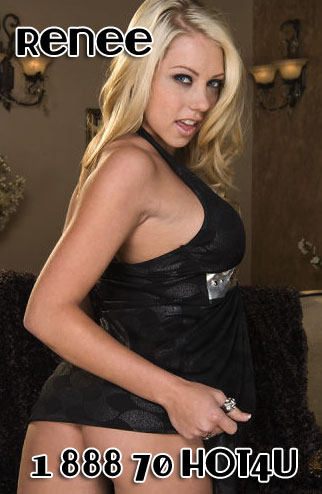 Hi! My name is Renee and I have a confession to make. I love strap on phone sex. A lot of you guys are curious about it and I really freaking love it when you call me to talk about it. Of course, being a little (or a lot) bratty, it's one of my favorite things to take a virgin asshole and fill it up with my big fat strap on.
Sometimes guys try to resist me when I bring out my strap on for our play time, but they never win the battle. I mean, if a guy wants to fuck a girl in the ass, don't you think it's only fair for us to be able to fuck you in the ass, too? Don't worry… even if you're not sure you want to do it, you're going to end up loving it. A lot of guys are hesitant and then end up begging for more and more.
If you're worried about the pain you might feel at first, don't. I will make sure that I go slowly and ease you into it. I don't want you to be scared off. I get off on seeing how hard being fucked in the ass gets your dick. It's never been that hard before, has it? Maybe it came close to being that hard when you fingered your asshole, but not quite all the way there.
What does it mean that you like being fucked in the ass with my strap on? I don't know… maybe it just means that you're kinky. But maybe it means something else entirely. Wanna talk about it? I'm sure you're curious now. And all you have to do is pick up that phone and call me at 1 888 70 HOT4U for strap on phone sex.
AIM: RainyDay4Renee
Yahoo: RainyDayRenee