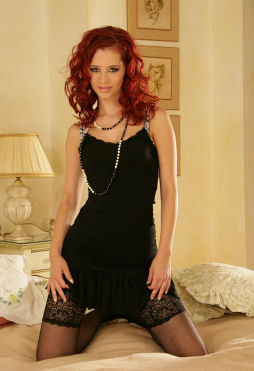 Hi it's Kendal, I'm your sexy flirty, hazal eyed, red head pleasure. I am ready to have a unforgettable experience with you today. I want to turn you on so much that you wont be able to help but slide your dick out and start stroking. I love it dirty, kinky and deliciously taboo. I get so turned on hearing your sexy voice. And when your stroking your cock for me I can't help but start rubbing my sweet pretty pussy just for you. Oh it feels so good when I slide my fingers inside. It's just so tight and gets so fucking wet when I think about all the things we could do together. I love hearing about all of your fantasies. They can be mild, extreme or anything in between. Do you want me to sit my panty covered ass and pussy down in your lap and look into your eyes? I'll move and grind my hips in circles as you take your hands and touch me all over.
I just know it will be moments before I can feel your cock start to stiffen for me. My pussy is dripping wet and all yours. Do you want to cuff my firm breasts and slide your fingers inside my warm wet pussy lips? I was taught at a very young age of how to take a mans throbbing hard dick deep inside all of my addicting holes. Would you like to hear about my sinful secrets? Because I have many to share with you. I love going into all the fine details. I have a very sweet and dirty talking mouth. I also have a very vivid imagination. Do you think you can guess who the first man was who took my virginity? If you're curious enough I just may tell you. He was also the first to pop my tiny ass cherry as well. I love all sorts of sex with all kinds of men. I really get turned on by those who are older as well. And It doesn't matter if you want to give it to me nice and slow, deep and hard, kinky or oh so dirty.
Are you the submissive type of male? If you are then I will turn the tables and have you dropping to your knees ready to submit to me. I love it when a sub shares their secrets with me. You can be a slave, sissy, panty boy, have a little dick or just want a mistress to dominate and control you. I'm not afraid to make the first move when it comes to a shy timid male. I'll be your seductive cock teasing flirt who will touch you, kiss you, and climb on top of you and give you the most intense lap dance you have ever had. And if your cock is big and hard I'll slide it out and slowly push it past my satin panties and in my addictive tight and very wet pussy. I'll give it to you so good you will be begging me to cum. But if your dick is too small you won't make it past my panties. Because I love to humiliate, be a cock tease, bring you to your knees and serve me. I bet your dick is hard right now isn't it? It's dripping pre cum just thinking about all of the humiliating things I will do to you.
Would you like to share some role playing together? I could be the super slutty intern willing to do anything to get a promotion. Or maybe i'm that college cum slut who fucks the whole basketball team and now I want you! Maybe I'm that sweet, innocent virgin girl next door whose sweet ripe cherry you are ready to pop. Or that babysitter who will do anything to make some extra money. Hmmm or your daughters best friend that walks around barely dressed in nothing but panties and a half top. Do you want to come in my bedroom late at night and do forbidden things with me? Or maybe you're my step daddy or something even more taboo!
I could also be the one who walks in and catches you sniffing my dirty panties. Are you stroking with them as well? I just may blackmail, humiliate and have my way with you. I bet you want to slide them on and bend over like a strap on taking slut ready to be my bitch boy. You may even want to suck on a real cock as well. You may have even fantasied about being feminized and turned into a sissy! I love cuckolding, fluffers, cream pie boys, cbt, guided masturbation, and if you are really kinky I just love giving you cum eating instructions. This list could go on and on but I think you get the idea.
Nothing compares to turning you on and YOUR throbbing hard cock sliding in and out of my mouth, throat and dripping wet pussy. You can have the pick of my dripping wet cunt or ass. And I will have your cock rock hard, throbbing and ready to cum. I'm so fucking wet right now and craving your cock. So if you are ready to experience what this cum thirsty slut has for you then give me a call. I'm ready to make you cum hard…..
XOXO
Kendal
If Skype isn't a good choice for you below, message me on google hangouts to play. Just add a new conversation with KendalLoves2Swallow@gmail.com