I'm Renee and I don't like to brag (okay, maybe I do) but I'm pretty much the best GFE phone sex girl you could ever hope for. I don't make demands on you and I am willing to do whatever it takes to satisfy you in every way you could imagine. I don't like to put any limits on the things I would do for my man, so I really am the perfect phone sex girlfriend for you. Haven't you been wishing for a girl like me? You don't have to wish anymore, baby. I am here and I'm ready to be your one and only girl.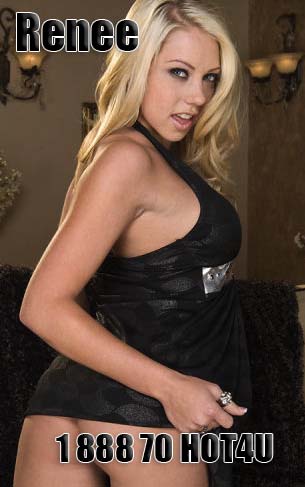 I know you get so stressed out with work and life and when you go home to unwind, you don't want to be nagged to death about anything. You don't deserve to be nagged. You deserve to be worshiped like the king that you are. It doesn't always have to be sexual when you call me for GFE phone sex. We can just talk about what's going on in your life and about any stresses you may be enduring. I know sometimes you just need to vent and get things off your chest. I'm a really good listener and you can tell me anything. I will never judge.
Now, I know I said that our time spent together does not have to be sexual in nature, but I sure hope it goes in that direction at some point. I love giving to my man sexually. Making you feel good makes me feel good. It turns me on so much. Again, nothing is off limits so tell me your wildest sexual fantasies and let me make them come true!
Call me at 1 888 70 HOT4U and ask to talk to Renee for GFE phone sex
AIM: Rainyday4renee
Yahoo: rainydayrenee