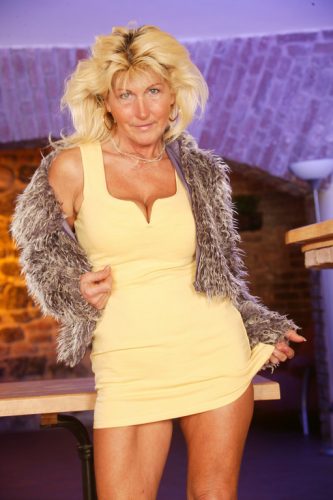 So, you say a good time GILF is what you're looking for? Well, look no further, and don't forget the name…
Delores
You know what it rhymes with, don't you? Cum on, baby – think about it. What's the part of my body you need to be worshipping now and forever? When you have the answer, then you'll know the password to get into GILF heaven.
I was the girl who knew ALL of the guys in high school, and fuck, did I know them well! I started having babies when I was still pretty young, and now I'm already a great grandma in my mid 60's. I've made a lifetime practice of being a total slut, and I have no intentions of stopping any time soon. Practice makes perfect, so it only gets better when you play with a gilded GILF slut like me. I've pushed every limit there is to push and am still looking for more ways to top what I've already accomplished on my freaky slut bucket list. I'm well-seasoned, open minded, always ready to party with a crowd, and most at home when I'm in control.
Honey, I promise you I don't take any shit, so don't think you're gonna push this granny around! If anything, I'm going to be the one helping you cross the street, because when I'm through with you, you might not be able to walk without help.
Visiting me for the weekend does not include milk and cookies, or Sunday school, and the only reason I care about having a good slow cooker recipe is so I can spend my afternoons fucking the pool guy, the lawn guy, maybe even my hottie neighbor, or all of them at once….don't expect me to tell you to get off my lawn unless it's to invite you inside for the party, so be prepared to be seduced by this sexy, slutty GILF leather femdom. If anyone is going to know best how to drain your cock dry, it's going to be the woman that's been doing it for decades, right?
These are my specialties…
GILF/MILF/ABDL
Smoking Fetish
Domination/BDSM/Spanking, both OTK and Corporal Punishment
BBC/SPH/Cuckold
Feminization/Panty Boy
Sex Toys/CBT
Hair fetish…I mean, honey, just look at that full bush!
I can handle talking about so many other topics that are just too taboo to list, so trust me, baby boy – don't be afraid to ask, because chances are, I've probably done it!!