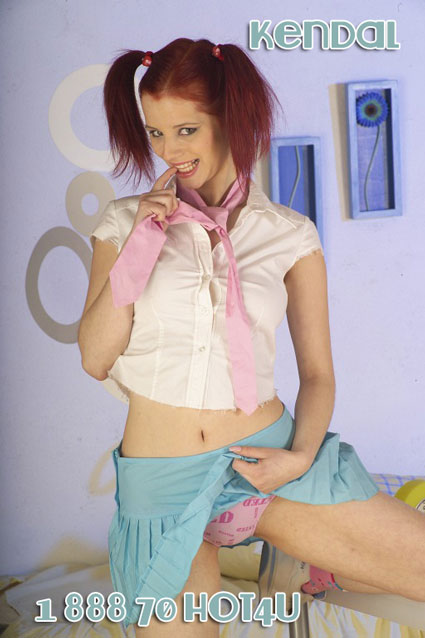 Hi everyone i'm Kendal – a sexy, naughty, SLUT who loves making your cock rock hard for me. I'm a college girl who loves teasing all the boys in school but I can't deny how much I love being a super flirt just for you. It just makes my pretty panties so wet when you call me for your favorite coed phone sex fantasy. Wanna know a secret? *giggles* I love the boys in school but I would much rather have an older man like you who just can't get enough of me. Behind these pretty panties is a bald, tiny, creamy pink box that wants to get taken by your talented tongue, fingers and hard dick too. Yeah I can't deny that I love to talk dirty. Sometimes my mouth even gets raunchy for all the men who like that a lot. And with a sweet and deliciously pretty voice I just know that once you are talking to me your cock will be as hard as a rock. When i'm not studying for my courses in my free time I enjoy making new friends, shaking my tiny ass, being really spontaneous and turning your head my way. I know how much you love when I go around wearing those tight fitting tops that show off my perky breasts. And you love the way I wear my skirts. So short that you can practically see whats under it. Not to mention how much my pink button gets creamy when you say "Kendal I have to have you right now." And you can be the kind of man who likes to take control or if you are sub looking for a princess that knows how to take control then i'm the perfect girl for you.
I also like it mild or extreme and everything in between. They don't make them any kinkier, dirtier or sluttier than me. And you know that saying about girls like me don't you? They say blondes are noticed but red heads are remembered ?  Especially when it comes to making your dick throb for me.  And just think what would happen if I started to slowly slide these pink panties down for you and show you just how much of a bad girl I can really be. And right now if you want me to strip down for you and brush my perky tits against your bare chest and take my soft hand and place it around your cock I'll do just that. I'll stroke it so good that you will find yourself having all kinds of thoughts about me. I like them all too. Naughty, forbidden, taboo any anything else that your heart desires. And when you call me for your favorite coed phone sex fantasy you won't get all that moaning and groaning. You will get a girl that has a very vivid and dirty imagination and someone who pays super duper close attention to what exactly that it is that you want. And then I'll smile at you and say "You know all of my sweet holes are just for you." Take me and ram it in my wet twat and stretch it open. Even if it is too big I still want it all. These fuck walls will grab and choke your dick and drive you crazy. And if you want to try this sweet virgin ass you can have that too. And if you want me to prove how much of a dirty cum loving slut I truly am i'll drop to my knees for you and suck that dick until you are ready to blow hard for me.
So please call me for the hottest fucking coed phone sex experience you will never forget.  Call 1-888-70 HOT4U ask for Kendal.
AIM: KendalSwallows
Yahoo: Kendalluvs2swallow